Don C. Reed is an extraordinarily committed witness and analyst of the events that created California's Proposition 71 in 2004 and the processes that flowed from implementation of the research into a new therapeutics based on stem cell biology and medical applications for regenerative medicine. In many respects he has lived as an anthropologist within the community of patient advocates that study and analyze the processes, decisions and outcomes of the board of citizens charged to decide how to expend the $3 billion for research and development awarded by the Proposition. He also followed closely the quality of the management team's recommendations to the board of directors. He has attended far more of the public Independent Citizens Oversight Committee Meetings (board created by the Proposition), their public subcommittee and community presentations than any other single person. His insight and knowledge of the revolution occurring in stem cell science and medicine is astonishing. His optimism for the outcomes of the research is laudatory and his role in describing the history around this game changing community endeavor is a beacon for what can be achieved by all of us getting involved in opportunities created by innovative research. "Hats off " to Don for caring enough to record these events in such logic, accuracy and detail."
–Alan Trounson MSc, PhD, LLD
Professor and Distinguished Scientist of the Hudson Institute for Medical Research
Former President, California Institute for Regenerative Medicine
Melbourne, Australia
September, 2015
"…SHOULD BE READ BY… STUDENT(S) OF AMERICAN CIVICS…"
"In the early years of our new century, significant forces of reaction moved to criminalize, stigmatize and marginalize the advancement of stem cell science. Stem Cell Battles tells the story of the political combat which led to the creation of the California Institute for Regenerative Medicine. Today stem cell research is lawful and funded but that is only so because of the activism of patient advocates like Don Reed. As someone who was there at the beginning I found Don's book to be insightful, exciting and inspirational. …Stem Cell Battles should be read by any serious student of American civics.
In 2098, the world will mark 100 years since the first isolation of human embryonic stem cells. Historians of that time undoubtedly will praise the countless stem cell researchers who fought incurable, chronic disease and won—saving lives and transforming medicine in the process.
But they'll also applaud the efforts of non-scientists like Don Reed, a tenacious advocate for stem cell research and for people living with chronic disease and disability. No doubt those future historians will heavily reference Don's soon to be released book: STEM CELL BATTLES: Proposition 71 and Beyond: How Ordinary People Can Fight Back Against the Crushing Burden of Chronic Disease. Through first-hand accounts, he chronicles the early battles to get human stem cell research off the ground in California, the progress that's been made so far and the promise for future therapies.
(The reader will)…enjoy his easy to understand writing style peppered with concrete statistics…
It's no coincidence the STEM CELL BATTLES will hit the bookshelves on October 14th, World Stem Cell Awareness Day…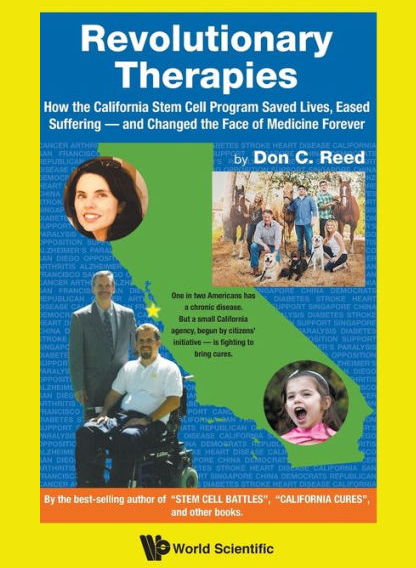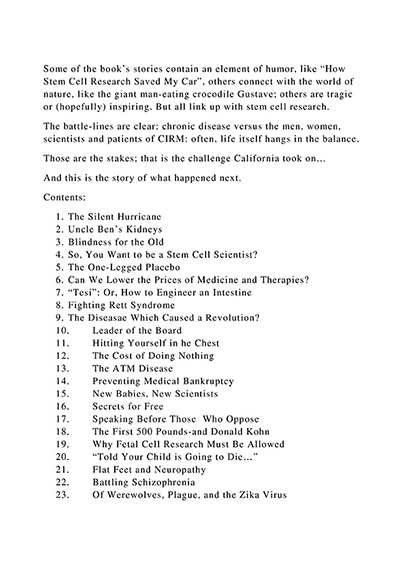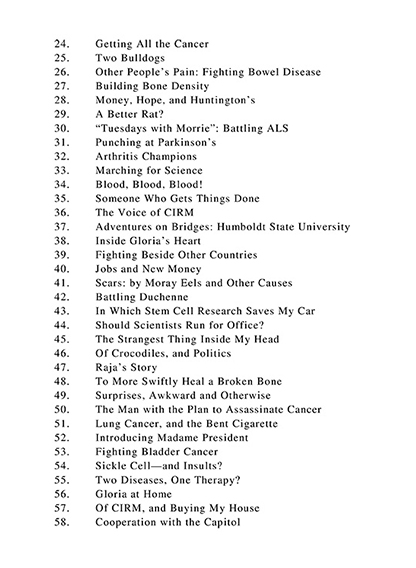 Don Reed's NEW BOOK - - "
REVOLUTIONARY THERAPIES!

"
How the California Stem Cell Program Saved Lives, Eased Suffering -
and Changed the Face of Medicine Forever
By Don C. Reed, World Scientific Publishing, March 20th, 2020
Chronic diseasethreatens the world.
In America alone, more than 100 million children and adults suffer chronic (long-lasting or incurable) diseases. These are not empty statistics, but people we know, members of your family and mine...