Research advocate's new book to be released on Stem Cell Awareness Day Don Reed Reflects on the California Stem Cell Initiative Yesterday was stem cell awareness day. In honor of this important event, Don Reed held a book reading at CIRM for his newly released...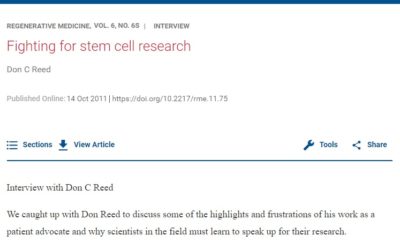 Interview with Don C Reed We caught up with Don Reed to discuss some of the highlights and frustrations of his work as a patient advocate and why scientists in the field must learn to speak up for their research. Don C Reed has supported regenerative research ever...
Don Reed's NEW BOOK - "Science, Politics, Stem Cells and Genes: California's War on Chronic Disease"
California's War on Chronic Disease
By Don C. Reed, World Scientific Publishing, April 2023